5 Ways to Create a Mood Board to Articulate your Vision
Have you ever found yourself in the midst of a home project saying something like…
When I first meet with clients, I almost always hear one or more of these phrases. However, once I put together their ideas in visual form, you can instantly see their decision making stress disappear. The ability to visualize a project before you actually complete it is the best possible way to get it right the first time.
In today's post, I'm going to give you some options for articulating your vision using a visual representation (a.k.a. a mood board). 
---
Disclaimer: This post does include affiliate links for your convenience. This is at NO additional cost to you, but earns me a small commission to help keep my blog up and running. Also, we are not affiliated, associated, authorized, endorsed by or in any way officially connected to the mentioned programs below except for DesignFiles. Without a doubt, the opinions of these companies are our own. We just love them all! To read more, check out our disclosure policy. Thanks for your support!  
---
Goal: Pick your mood board creation method.
There are so many great ways out there to create a mood board, but if you are stuck in the overwhelming nature of making home improvement decisions, they may not be so obvious any more.  I promise that if you take the time at the beginning of your project to buckle down and put your ideas together in a visual way, you will be exponentially more happy with your final product than if you skip this step. If you are already working with a designer or a design company, they will set all of this up for you. But, if you are going out on your own or have hired a self-employed contractor to do a major or minor project, you will want to utilize these tips like the pros do to ensure you are happy with the results. 
Below you will find all the methods I would recommend choosing from and a little caption on why I like them.
1. Morpholio Board
Morpholio Board has a free version and a paid version. The free version allows you to utilize the basic board tools and the ability to connect to Pinterest, but only allows you 6 projects. I purchased the Board Pro version because it is only $11.99/year and I use it often to help clients and for projects in my own home. 
Morpholio Board is my personal favorite for many reasons. First, the app allows you to import your own photos into the program. It also has the ability to erase the background of a photo to make it transparent. This feature is nice if you opt for Board Pro, the paid version, because you can layer your photos on top of each other to get a feel for what it will actually look like. 
Another fun tool offered on the free version of this is the ability to connect to Pinterest. Many times I find great inspiration on Pinterest and being able to add it to my visualization board is a fantastic way to bring my ideas together in one place.  If you opt for Board Pro,  you have the ability to create "cut sheets" to add the cost of the item or the website in which you found it. Board Pro also has a custom library function, where you can save items you really like, too. 
If you are a digital-lover and tend to find most of your inspiration or shop a lot on-line, this is a great tool. The downsides to using this program are that you have to have an iPad (they have the iPhone option, too, but I don't like it quite as much because of the small screen) and you must have iOS version 11 or better on your iPad. I have iOS 10 running on my 4th generation iPad and the program works, but it tends to shut down and need to be restarted when it first gets going. I plan to upgrade my old iPad soon, so I won't have this issue and neither will you if you have a more recent iPad. Despite the glitches I deal with now, I still really love this program!
2. Olio board/Design Files
Olio board is what I would recommend if you do not have an iPad. Olio board is a web-based mood board option that has a lot of great features. They have a free version, that would work perfectly for simply creating a mood board, and a paid, pro version ($8.99/month) that has many more features. The free version allows you to drag and drop from a bank of items, upload your own items, layer items, and make transparent backgrounds on uploads. The paid version has budgeting tools, color scheme tools linked to Benjamin Moore  and Sherwin Williams paint colors, and the ability to add text to your mood board. Olio board also has brands, such as Hayneedle, Land of Nod, and One Kings Lane, built into the program. If these are not stores that you shop at, you can upload your own items as well, but they have to 1MB or smaller. 
---
Olio board also has a secondary design program called Design Files. It is set up to be used for designers to share design boards with their clients, but the free version has some cool features. One of the things I like about Design Files is that the paint colors from  Benjamin Moore and Sherwin Williams are included in the free version. Also, the option to write text on your board is included as well. The best part of the whole program is that there is an option to input anything from the web. When you click My Library the first time, it will have instructions on how to create a bookmark that will allow you to add items from any store. This program has more vendors, too, such as Crate and Barrel, Birch Lane, and Joss & Main. I find this program much easier to learn off the bat, but they are both good design programs.
3. Pinterest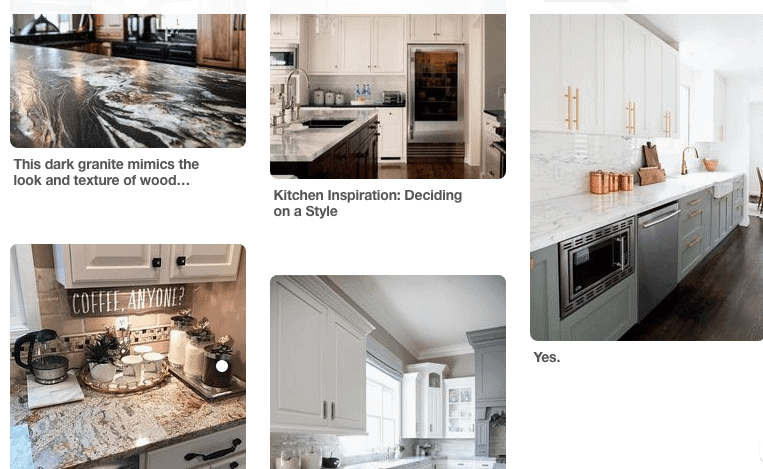 Another really wonderful, and maybe more familiar, way to create a mood board is Pinterest. If using this method for your mood board, I would recommend creating a secret board for your project and saving all your inspiration to that particular board so that everything is in one place for that project. Another nice feature of Pinterest for this use is that they have a button (the red plus sign at the top on the desktop version) that allows you to add an item from a website. Therefore, if you find something you love on a home improvement website, you can upload it to Pinterest and save it your project's board. 
Pinterest also allows you to add collaborators to your boards if you would like to include ideas from other family members as well (or me if you would like to be my next client
" /> by clicking here). I like to use Pinterest boards to start the process with clients in order to get a window into their likes and dislikes for their project.
The other cool part of using Pinterest for your mood board is that you can add your own comments/descriptions to your pins when go to save them. After clicking the photo you want to save, but before actually clicking save, there will be a little pencil button beneath the picture towards the right. Clicking this will allow you to edit the description of that pin, so you can remember what you liked about it. The only issue with this method is you are not able to layer the pictures, but you are able to move the images around using the organize button. 
4. Microsoft Word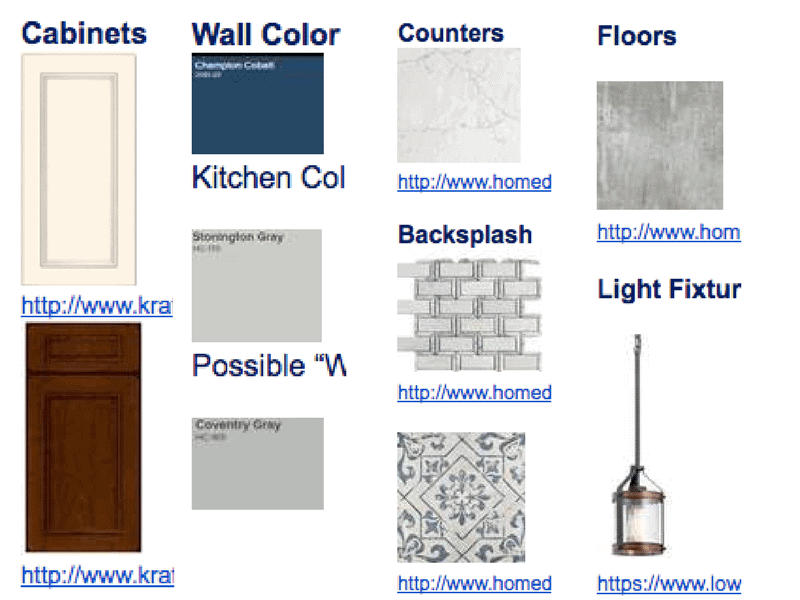 This may seem like a weird option, but Word is a great way to collect all of your photos. In fact, it may be the perfect tool to help you remove the background of any picture you find on-line. Many of these programs listed above have trouble removing the perfect amount, but Word let's you select exactly what you want to get rid of in the picture. 
When you copy a picture and paste it into Word, you can go to the picture formatting tools and remove the background. Word actually gives you the option to change what they have removed, so you can customize the background to fit the piece you want to bring into your mood board. Then, you can layer the pictures by putting them into a transparent text box. 
The picture above here is a snapshot of what one of my clients put together in a word document. If you are running Windows 7 or better, there is a built in Snipping Tool already on your computer with this symbol
. This allows you to take a specific screen shot of anything you have up on your screen. This is nice when you are shopping on websites that you are most likely going to buy from because they usually have well-lit pictures of the items on-line. You can always go into the store and take your own pictures, but you have to be careful that what you see in the store is what comes up on your picture. 
One of my clients did not have a Pinterest account or an iPad, so she housed all of her inspiration in a Word document. We were able to sort the pictures by item and then pull from these to create a mix and match of certain items in a later page. The ability to copy, paste, and resize was a skill most people are very familiar with, so using this method does not have much of a learning curve associated with it.
5. Pin items to an actual board
For many of us, this may seem a little "old school," but this is a great option to either use as your main mood board system or to do en tandem with a digital method. Choices, such as paint color, floor tile, and wall tile, are tough to make without seeing what they will look like in your specific space.
This a great idea if you like to browse through magazines or prefer to print out what you find on-line because you can cut the items to size and pin them with push pins to a cork board. You can also use push pins and binder clips to hang bigger samples of things like tile or wood options. 
When we were working on our basement bathroom project, it was very hard to get an idea of what would work well in that space because of the lack of natural light. Once I had narrowed down what we liked in my digital mood board, we went to the store and bought a sample of those items to put together in the space to get a true depiction of what it was going to look like. Bringing the samples into the specific room helped visualize tremendously.
When working with paint color, any type of tile, granite, cabinet style, wood flooring, and/or fabrics of any kind, I would gather real life samples of those items and create a physical mood board. When the mood board has a draft, bring it into the space you are going to be working with and assess how well the items work. The issue with this option is that you won't always be able to get every detail in its physical form, but many stores do provide you with the option to buy samples of various items to bring home. 
Examples


1. This mood board is from one of my client projects when she was remodeling her kitchen. This mood board was made with Morpholio Board on my iPad.
2. This mood board was also created with Morpholio, but many of the items in this example are from her actual home. All the flooring, the window, and the wall color were pictures I took in her home and uploaded to the program. Her kitchen is actually set up like this, so it was easy for her to see what her end result was going to look like.
3. This mood board was completed using (affiliate link) Design Files. I'm getting ready to change up our home office/hobby room and I need to gather some inspiration. You can see that I included color schemes, wood tones, and a snip of my carpeting.
In addition to including specific items, such as a blue accent chair and succulent plants, I have inspirational pictures of what I like on the board as well. This helps me get a clear vision of what look I'm trying to achieve. This will not be my final mood board as I move forward with this project, but this is a window into how I start my projects using mood boards. 
No matter which method you choose, taking the time to complete a mood board before your next home project will save you from a ton of anguish later in the process. Articulating your vision can be difficult, but with any one of these tools, you will be ready to rock and roll when it comes down to making the decisions on design. 
Which method are you going to use for your next mood board?